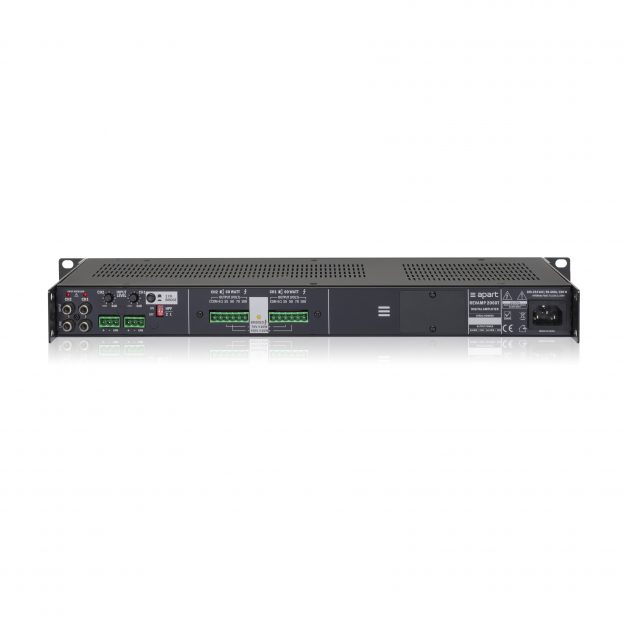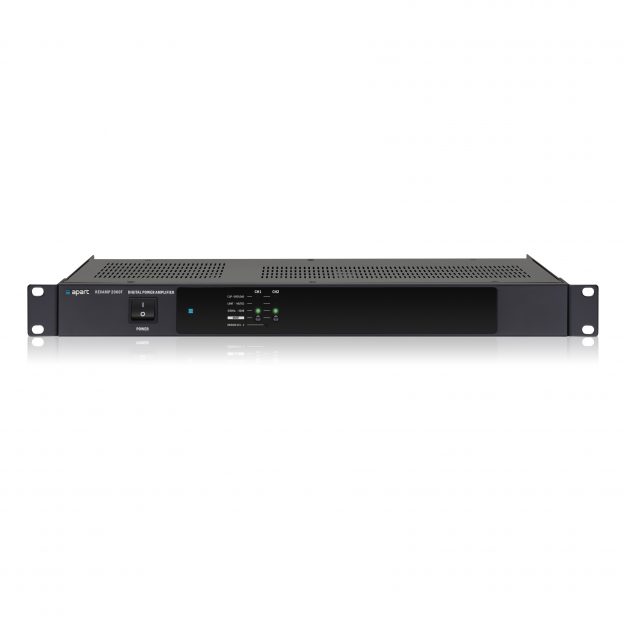 REVAMP2060T (Leverbaar JULI 2021)
Bestelnummer: 10199
Niet op voorraad. Levertijd 14 dagen
Tijdelijk niet te bestellen omdat de REVAMP2060T uitverkocht is tot juli 2021.
Alternatieven zijn MA120, MA240 of de REVAMP2120T.

2-channel 100V bridgeable digital power amplifier, 2 x 60W 100Volt
Zie ook de CONCEPT1T.

INPUTS
2 Line inputs balanced on euroblock.
2 Line inputs unbalanced on RCA connectors.
Input level attenuators on all inputs.
Input overload indication via LED on front and
back for easy installation.
Dipswitch controllable HP-filter at 250 Hz ideal for
use with 100 volt horn loudspeaker.

OUTPUTS
RMS output power:
∙ 2 x 60 watts @ 100 volts or @ 4 ohms.
∙ 2 x 30 watts @ 8 ohms.
∙ 120 watts bridged @ 100 volts or 8 ohms
(bridged).
Euroblock loudspeaker output connectors.
Link output via RCA makes it easy to connect to
the next amplifier.

The new versatile REVAMP2060T is a professional 2-channel digital power amplifier with 2 x 60 watts output power @ 100 volts or @ 4 ohms, that can easily be bridged into a powerful 120 watts @ 100 volts or 8 ohms single amplifier. This Class-D amplifier has a galvanic separated toroidal output transformer built in to avert external influences & disturbances. A fast installation tool on the rear is the clip LED indicator that can be used during the configuration of the input gain. The convection cooled REVAMP2060T has no fan inside which implies that the amplifier works silent and stays dust-free at all times. This maintenance-free feature together with the ease of installation via multiple input and link connection options makes the REVAMP2060T the preferred installer's choice. The slim 1U design without front control makes the REVAMP2060T a unique all-round amplifier unlike any other in the market.