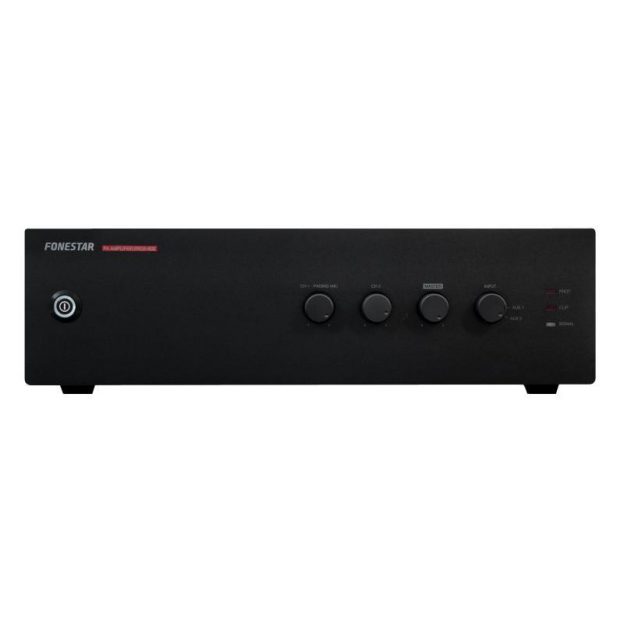 Fonestar PROX-60S - 60W mengversterker
Bestelnummer: 10910
Niet op voorraad.
100 Volt 60 Watt

Inputs:
CH 1 mic/line balanced with 48V Phantom. Combo connector (XLR + 6.3mm) and euroblock
CH 2 mic/line balanced with 48V Phantom. Euroblock connector
Mic signal level: 6 mV RMS (-44 dBV) / 600 Ω
Line signal level: 250 mV RMS (-12 dBV) / 100k Ω
2 AUX. 2 x RCA and euroblock connector. Signal level 300 mV RMS (-10 dBV) / 47,000 Ω
1 emergency. Euroblock connector. Signal level loudspeaker line 100 V
1 Mute (Emergency Priority) by contact closure. Euroblock connector

Output:
1 line. 2 x RCA connector. 1.25 V RMS (+2 dBV) signal level
100 V or 4 Ω speaker output. Connector screw terminals

IMPEDANCE: 4 Ω and 100 Volt

FUNCTIONS: Input priority (Voice over VOX inputs):
100 V Emergency input with highest priority, attenuates all other inputs.
Mute by contact closure, attenuates all inputs except the 100 V Emergency input.
Channel 1 with priority over all other inputs, selectable level.
Channel 2 with priority over auxiliary inputs, selectable level.
Other functions:
Power on, protection, signal peak and output signal indicator lights.
Fanless induction cooling

CONTROLS:
Microphone volume
Mic/line/phantom selector
Master volume
Aux input selector
Tone: bass and treble (+/- 10 dB 100 Hz and 10k Hz)
Microphone gain
Priority activation signal level (VOX)

DIMENSIONS: 320 x 94 x 281 mm depth
WEIGHT: 5 kg

Website fabrikant: https://fonestar.com/en/prox-6...