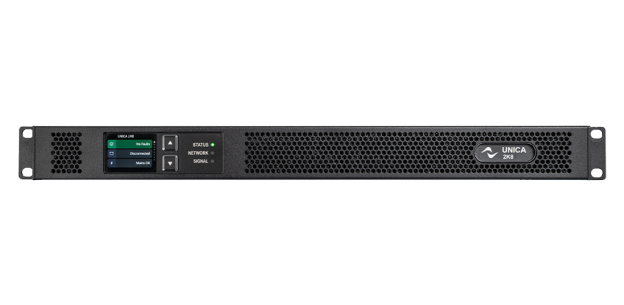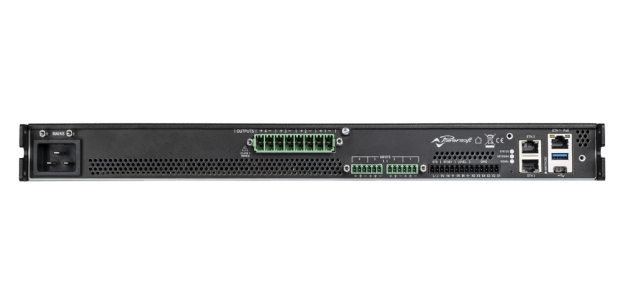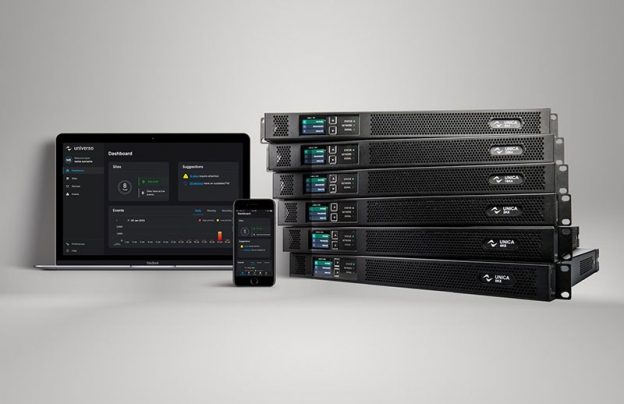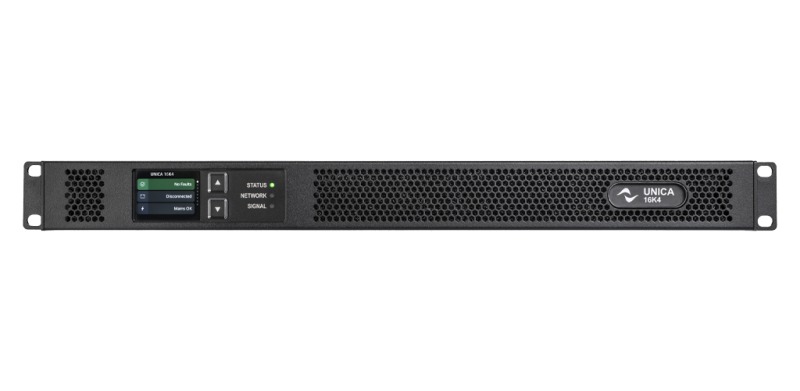 Powersoft Unica 2K8
Bestelnummer: 10884
Niet op voorraad.
Output power per Channel
250 W @ 2 Ω
250 W @ 4 Ω
250 W @ 8 Ω

Powersoft 3rd Generation amplification technology
State-of-the-art processing and amplification architecture ensures maximum audio performance and reliability, allowing for advanced processing, networking, and monitoring capabilities to meet the growing needs and complexity of audio systems.

Networking
Three configurable 1Gb ports allow daisy-chain as well as Dante-redundant network topologies, via two operating modes: Switched and Split-Redundant. The Split-Redundant mode allows one port dedicated to control and two ports for Dante/AES67, allowing network traffic separation. Lastly, a dedicated network-security webpage allows advanced configuration to meet stringent network-security requirements.

PoE input
The PoE input allows keeping the network ports and amplifier logic circuitry powered in case of mains loss, ensuring a short wake-up time when power is restored. The Unica platform also allows monitoring of the loudspeakers and amplifier outputs circuitry without mains, when powered by PoE++.

Power Sharing
Each output can deliver up to twice the rated power when asymmetrically loaded, ensuring high versatility in system design and specifying phase. Additionally, each output can drive both 70/100V and low-impedance loudspeakers down to two ohms seamlessly, without the need to configure the output mode. Output channels can be bridged and feature extensive loudspeaker diagnostic tools.

Front panel display
Access to the amplifier's status and general information is granted via the front panel LCD display, which is useful for troubleshooting, monitoring, and maintenance purposes.

ArmoníaPlus Software
All models include network connectivity and onboard processing. It is possible to adjust each amplifier parameter, loading speaker presets, and tune complex systems easily thanks to Powersoft ArmoníaPlus software.

Eco Mode
Automatic energy-saving functionality allows turning off each output channel independently when audio is not passing, minimizing energy consumption. Channels are individually and instantaneously turned on as soon as a signal is detected, without impacting audio performances.

Easy Swap
Game-changing functionality allows replacing an amplifier quickly, without product-specific knowledge, and independent of system size and complexity. This is possible thanks to Unica's ability to store backups on a local USB flash memory drive and restore the backup to a replacement amplifier by simply inserting the USB drive and following the procedure on the front-panel display.
Universo Cloud
The cloud-native connectivity allows remote monitoring of the amplifier status from any device, anywhere in the world, via Powersoft's cloud platform Universo.
Website Powersoft: https://www.powersoft.com/en/p...

Downloads